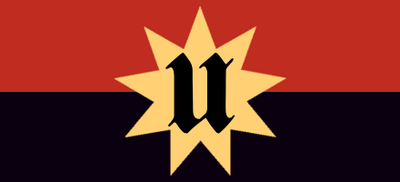 The
Russo-Mongolian Empire is
the main aggressor to the
United States of Western Europe
in the
Iron Storm
Universe.
The Russo-Mongolian Empire has its roots in the Russian October Revolution. After the Bolsheviks executed the Tsar and his family, the
Baron Ugenberg
, at the time already in control of Mongolia, took command of the White Russians and crushed the Bolsheviks with help from
Kazakhstan
. Within a few years, Ugenberg and his army stabilised Russia and absorbed the failing German Empire, bringing World War I to a standstill. Ugenberg attacked Europe in 1929 which was the beginning of the standstill. Allied with Japan's Emperor Hirohito, Ugenberg also invaded China and allowed Japan to occupy Manchuria in 1941.
Many soldiers in the military appear to have ethnic diversity as a result of the Empire stretching from Mongolia to Germany. The Deutschen Reichskorps is the German military wing of the Empire and has German and Russian speaking soldiers. An ethnic Tatar officer can be seen speaking Russian in Wolfenburg. Among the branches are:
Equipment
Edit
Russo-German Tagesschau (Deutsch-Russische Tagesschau) - German-Russian Evening News which is a communication and intelligence device used to see news from the front. They are usually set up next to tents.
Throughout Berlin, the coat of arms of the Russo-Mongolian Empire is seen mostly on walls. It is a light brown and red eagle with a star above the head, and has a "u" on the chest with a horizontal crescent under it.
With the exception of Scandinavia, the Empire's line of influence as per the map is almost entirely akin to the Soviet Union's in the real world.